04/07/07.
Drug Aware Pro announces trials for local surfers.
Margaret River Tom Innes used the trials as a stepping stone at a previous event.



Qualifying Trials have been secured for the 2008 Drug Aware Pro Margaret River, giving local male surfers the opportunity to compete against some of the world's best professionals.

The Trials were approved by the ASP (Association of Surfing Professionals) this week, following lengthy negotiations by the Drug Aware Pro Margaret River Event Director, Tim Thirsk.

"It was a huge challenge to get the Trials round through the ASP, but now that it is in place, there is a great opportunity for locals to test their talents against some of the biggest names in world surfing," he said.

The field for the Trials will comprise 48 surfers, to be made up of 50% local and 50% national or international competitors. From the Trials round, eight surfers will qualify for a position in the 2008 Drug Aware Pro Margaret River.

The Trials are open to all West Australian male surfers.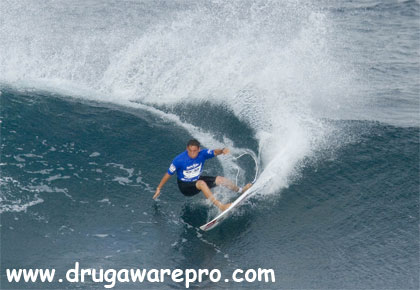 Ry Craike has also used trials to advance to main rounds.



Pending approval from the Augusta Margaret River Shire Council, the Trials will be scheduled for the Sunday prior to the 2008 Drug Aware Pro Margaret River. Dates for the week-long event are yet to be confirmed.

Also still to be confirmed is the tournament's prize purse, which is expected to be increased from the 2007 amount of AUS$197,000 (US$155,000).

This year's event was the world's biggest WQS (World Qualifying Series) surf tournament, which saw a red-hot field of 250 professional male and female surfers from 19 nations take part. It was the only male and female six-star, prime-rated event on the ASP (Association of Surfing Professionals) international calendar.

The Men's Final saw Australia's Kieren Perrow (Byron Bay, NSW) beat Portugal's Tiago Pires, while in the Women's event, Brazil's Jacqueline Silva claimed the title over Australia's Jessi Miley-Dyer (Bronte, NSW).

For further information on the 2008 Drug Aware Pro Margaret River Trials, go to www.drugawarepro.com.

Major sponsors of the event include Healthway / Drug Aware, Tourism Western Australia, EventsCorp and O'Neill. Support sponsors include Department of Sport & Recreation, Chill by Brownes, Tooheys Extra Dry, Odyssey 2020, Coca-Cola, Leeuwin Estate, Nova 93.7, The Sunday Times, Margarets Beach Resort, MR Law, Shire of Augusta Margaret River, Tracks Magazine, Surftech, srosurf.com, Surfersvillage, Surfing WA and ASP Australasia.