18/03/20
3:40pm



EMAIL THIS TO A FRIEND

SOCIAL MEDIA LIGHTING UP WITH ADVICE FOR SURFERS IN THE SOUTH WEST REGION RE: COVID 19.



Social media sites have been activley spreading the word about social distancing both in the lineup and on the beach in the South West.

Handmade signage at some of the breaks in the region read "Lets do the right thing and keep our beaches open, Dont congregate in the carpark or on the beach before or after a surf, make it snappy surf then leave the area, spread the word not covid 19 and the last one spread out in the lineup.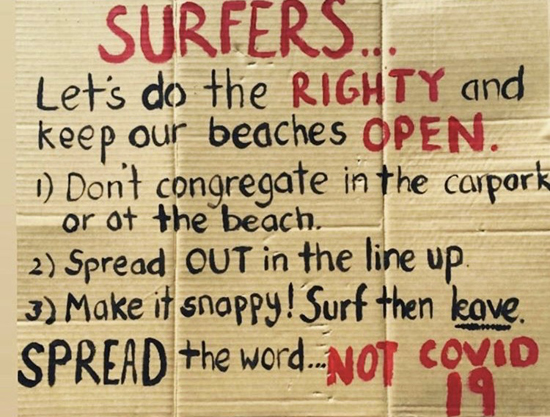 The later "spread out in the lineup", will be easy to accomplish as crowd numbers both in and out of the water are light due to the fact regions in WA have been segragated with road blocks in force. So this weekends crowd numbers will be interesting to say the least.

We would also like to point out that you should also not be sharing bongs, joints and sips out of your beer cans or using shooter glasses that have been used by others. You should also not be borrowing your mates wetsuit (especially after he/she has just had a piss in it) and no sharing wax (hand contact).

Now to the serious shit, crew this Covid-19 is no joke, heaps of conspiracy theories out there on the internet with some people who are starting to believe them. Sick of crew telling me more people die from the common Flu. If this was the common Flu, do you think countries would be reacting the way they are?

Do the right thing, if you think Governments are putting a spin on things then go to the WHO website, everything about it is on there.

Stay safe, do the right thing and hopefully, we should all be able to get through this