30/06/16
9:25pm



EMAIL THIS TO A FRIEND
THE NEW LIGHT WEIGHT SHARK REPELA FOR SURFBOARDS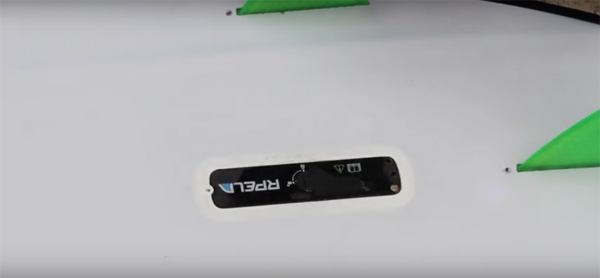 Light weight and inobtrusive



Just when I/you thought we had seen the latest in anti shark deterrents, along comes something else that will blow your minds. Lighter, fully swapable from board to board and invented by one of Western Australias well renowned surfboard craftsmen and it's rightly called The RPELA.

By having different mounting modules in your board the device can easily be swaped from your small wave board to your big wave board and if you want to surf your board without The RPELA device in, it can easily be done by inserting a light weight blank into the module.

The Evolution in Shark Deterrent Technology has arrived. Helping Protect Surfers around the globe from Shark Attack.

Inventor, surfer, shaper, Dave Smith has spent the last two years refining a product invented by a surfer for surfers. Dave took into consideration that surfers dont want a product that will weigh his or other surfers, surf boards down, or change the performance characteristics of their surfboard.

The result of his tireless pursuit of excellence has resulted in a product that not only weighs around the 165 gram mark, but also does not change the performance characteristics of your board and can also be interchangeable with any of your boards in your quiver, The RPELA is the new kid on the block which has actually been around for a while being tested by surfers including former World Professional surfer and surfboard manafacturer in the South West, Dave Mcaulley.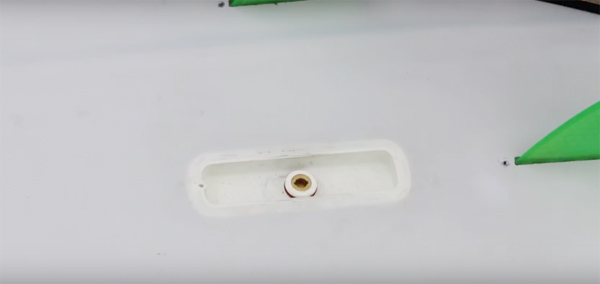 The RPELA housing without the module which can be blanked if you dont want to use the device or sell your board with the RPELA unit in it.



The RPELA, born from one mans desire to save lives has seen Dave spend a lot of time and money in testing, researching and manafacturing a product out of a strong belief that something needed to be done to help surfers keep on enjoying their surfing while reducing their risk of shark attack. The thing is, with this device, it is even being installed by other surfboard manafacturers. Where politics sometimes comes into play in the surf industry the divide has been broken with manafacturers also trying to do their part in helping to save lives.

Dave has opened it up so anyone has easy access to having the device placed into a new or used surfboard, where he could have easily had made himself the sole installer and reaped in the dollars.






How the RPELA looks and works on your board



The spiel on their website says that during their testing they have targeted hotspots around the globe from Balina on the East Coast of Australia, Margaret River and Esperance in the South of Western Australia, Plettenburg Bay South Africa, J Bay South Africa, South West New Zealand to the notorious shark hot spot of Reunion Island.

Their final Independent scientific trials are being conducted at the Oceans Research Institute in South Africa under the supervison of world renowned scientists with additional data analysis by Australias leading Shark expert Professor Charlie Huveneers from Flinders University in South Australia.

RPELA is the FIRST independently tried and tested purpose built surfboard shark deterrent available on the market It has been designed by surfers who still surf, for surfers.

It's not a product modified to fit a surfboard . Its designed to give you peace of mind whilst working with the design of your surfboard . Your safety and the performance of board is never compromised.






See it working on Great Whites



Sharks use certain vibrations to detect prey. They have designed RPELA to not attract sharks from long or close range and after over 2000 devices that have been sold on the world market they are happy to confirm not one of their users has had any encounters or approaches with predatory sharks or sharks of any description.


KEY POINTS OF RPELA:
Light Weight
Weighs 165 grams.

DOESN'T AFFECT BOARD PERFORMANCE:
Inbuilt to the contours of your board. RPELA is designed by surfers for surfers. Its purpose built to work with you and your board. From a beginner to a pro, RPELA is the only shark deterrent you need.

INTERCHANGEABLE:
Unique RPELA Housing can be fitted to multiple boards allowing the unit to be transferred with a simple locking system

CONTINUOUS PROTECTION:
From the moment the electrodes hit the water RPELA is activated No need to switch it on. Clear light indicators let you know its working and when battery is low.

LONG BATTERY LIFE:
8 hours and a fast recharge time of 3 hours Also the convenience of a 12volt car charger for those out of the way surf trips or top ups while on the go.

SCIENTIFICALLY BACKED:
Results backed by independent industry testing

For more video and info about RPELA click on the link below



CLICK HERE FOR MORE INFO