60 SECONDS WITH BRETT HARDY

CLICK HERE FOR PAST 60 SECONDERS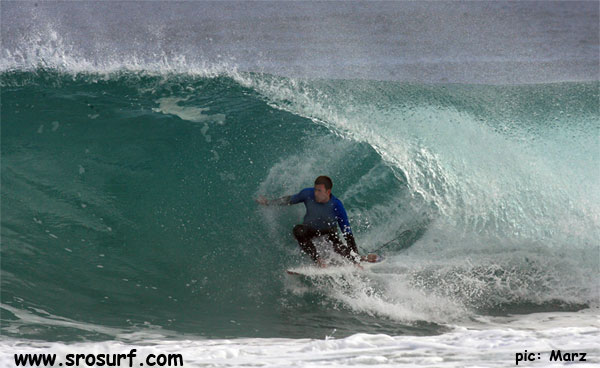 Hardy: Stylish and savy even in competition.



NICKNAME: Hards, Hardbags, Hard-Boiled-Egg, Turbs, Truck-Nostrils, Tunnels

AGE CHRONOLOGICALLY (date of birth that means your real age): 26

AGE MENTALLY: 26

AGE PHYSICALLY: 26 (Who cares! They're just numbers)

BEST WAVE YOU HAVE RIDDEN OUTSIDE OF AUSTRALIA: Desert Point

BEST WAVE YOU HAVE RIDDEN IN WA (if it's a secret spot just say secret spot): North Point

DESCRIBE YOUR WORST WIPEOUT: Nose-dived jaw first into the reef at Womb and chiselled my molars. Came up spitting blood and sea weed and my face looked like a pufferfish for a week.

FAVORITE BLOKE SURFER/S: Tony Hardy, Camel, Kelly Slater

FAVORITE CHIC SURFER/S: FAVORITE ACTOR: Jim Carrey

FAVORITE SONG: Justin Timberlake - Rock Your Body

FAVORITE BOOK (if you can't read just make one up): The Life of Michael Peterson

FAVORITE FOOD: Mei Goreng

FAVORITE MANOUVRE: Backhand air rev

IF YOU WERE PRIME MINISTER OF AUSTRALIA FOR A DAY WHAT WOULD YOU DO: Declare a national drinking in the nude day and demand that everyone run amok at once!

WHAT KIND OF UNDERWEAR DO YOU WEAR, JOCKS, BOXER SHORTS, THOSE BIG WHITE UNDIES WITH THE BLUE BAND ON THEM AND THE POCKET AT THE FRONT OR NOTHING: What are jocks? I wear undies mate.