WETSUITS

CONDOMS FOR THE CARCASS

TO PROTECT YOU FROM THE ELEMENTS


Wetsuits are quite a handy little number.
Some are plain stitched to provide you with a bit of warmth, while some have the seams stitched, glued or stitched, or stitched, glued and taped, which basically makes the little sucker water tight.
A wetsuit works by trapping water between the rubber and your skin.
Your body temperature heats the water up between the skin and rubber to keep you warm.
While some surfers have the urge to, how shall we say? Piddle (wee) in their wetsuit, this practise is not recommended, neither is breaking wind.
One, because you will not only smell like you haven't showered for a month, (because it gets trapped in your pores), but it also makes your wettie stink, because half of us don't follow the simple care instructions for owning a wetsuit.
Yep! You have to wash it in fresh water after every surf.
Salt is a natural corrosive, you need to wash your wettie after every surf and dry it in the shade out of the sun.
This will help prolong the life of your investment and keep you covered for many sessions in the water.
If your built like me, with stumpy little legs and a large chest, don't stress, as some companies, will, at a little extra cost, make a custom suit that will fit our carcass.




THE VEST
This casual number is great for summer and warm climates. It basically looks like a tank top (Singlet), and gives your chest a bit of warmth from light offshore winds. Generally around 2mm to 3mm thick.
A little bit of a fashion statement and a great macho or machoess look for Guys and Girls to show off your tatts.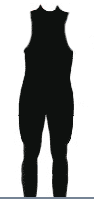 THE SHORT JOHN
Similar to the vest, except that someone decided to sew some short legs to it (good idea).
Great for those early summer morning surfs.
It not only gives your chest a bit of warmth, but protects your never regions from catching a cold.
These suits are also generally around the 2mm to 3mm thickness.
Yes! Guys and Girls, you can show the art work off on your arms with this sexy little number too




THE SPRING SUIT
Short arms or long arms and short legs is the style of this suit. Quite a good looking suit, but not to be worn out to clubs, parties or the pub. It lives up to its name, great for the Spring sessions in the water, Autumn or those chilly offshore summer mornings. Generally 2mm to 3mm combinations of thickness, but you cant show your tatts off in this one, unless there below your knees or elbows on a short sleave one.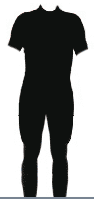 THE SHORT ARM STEAMER
We are now hitting the cooler months with this stunning little number.
Long legs and short arms, stylish, but practical.
Some surfers reckon the short arms, give you better paddling power.
Great for winter or cool climates, these come in a combination of thickness again ranging from 2mm to 3mm.
They make you look great, for the guys, by pulling all your waist line back up towards the chest and for the girls, you will look like you have hips like Pamela Andersen by wearing this lush little number.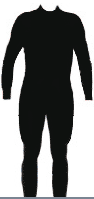 THE LONG ARM STEAMER
The winter suit. This suit really lives up to its name, you will really be steaming in this one.
Long arms and long legs are the fashion statement here with the emphasis on warmth.
These suits range from 2mm to 5mm thick and a great for those howling cold Southerlies in winter or for staying out longer than your mates, while they are waiting onshore for you in the freezing cold and rain, because you're the only one who knows where the car keys are hidden.